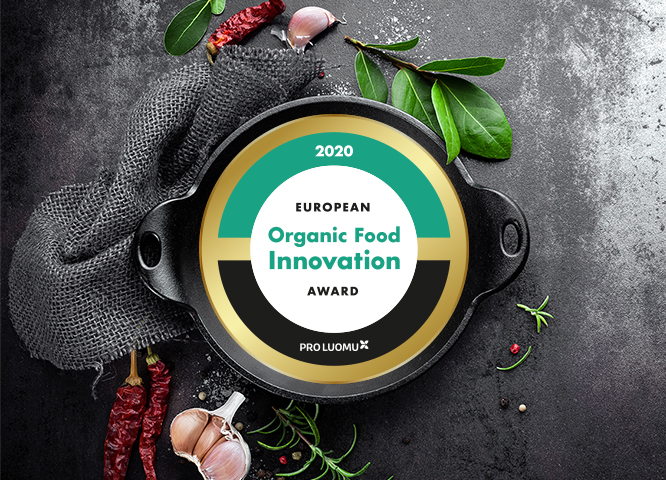 European Organic Food Innovation Award - rules, requirements, main judging criteria
RULES
The competition is available to a company with product, service, technology or process contributing to food products with  EU organic certification.
The participating company must be incorporated within EEC (European Economic Area).
The product or service must not have been in commercial use prior to January 2019.
The competition can be entered by applying online. The key part of the application is a max. 3 minute video that best describes the judging criteria and is viewable online from a public video streaming service (YouTube, Vimeo etc).
If applicant is selected to the final, they must send their representative to Helsinki, Finland on 5th of October 2020 to give a 3 minute public pitch and 4 minute Q&A to the judges and the audience.
The travel and accommodation costs must be covered by the participants. The finalist teams are granted free entry to the entire event, including the food provided to the event participants. The details of the finalist pitch and the detailed instructions will be provided to the finalists prior to the event.
The deadline for the electronic application is announced in summer 2020.
The finalists will be announced in Sebtember 2020.
The winner and the prizes will be announced on 5th of October 2020 at Organic Food Day event.
The winner will be awarded with the title "Pro Luomu Organic Food Innovation 2020". There will be also other prizes for the winner and runner-ups.
Judges have the ultimate ruling and their decision is final without any possibility to appeal.
REQUIREMENTS
The participating offering must be an innovation contributing to organic food products, product must be organic according to the EU definition.
Must be categorized as product/service/technology/process
Commercially launched after January 2019 or not yet launched
If not launched yet, it must have commercial level sample and packaging or some other proof of market-ready execution available
MAIN JUDGING CRITERIA
Novelty, innovation and creativity. What is new and unseen? How innovative this is compared to other ways to provide solution in this field? Is the innovation disruptive?
Impact on consumer behavior. How does this impact consumer behavior?
Business opportunity and potentially shown results. How big is the business opportunity for this innovation? What are target markets and how big they are? What are opportunities with regards to market share and revenue? Are there any business results yet?
Impact to the environment and health. How does the innovation contribute to the environment and health?
Coolness. Yes, organic is cool. Is this cool too?

Our partners