Finns buy more and more organic. Last year, the retail sale of organic products increased by nine per cent. The best-sellers were organic bananas and eggs.
The Finnish Organic Food Association Pro Luomu estimates that the value of retail sales of organic products in 2018 was 336 million euros. Organic products accounted for 2.4% of all retail food sales.
Figures from grocery shop groups form the basis for the estimate figures on the development of Finland's organic product market.
The annual growth of 13 to 14 per cent of the past couple of years has stalled somewhat. However, the growth in organic product sales was still clearly higher than overall retail sales, which grew by 4%.
Marja-Riitta Kottila, Executive Director of Pro Luomu, thinks that the almost 10% growth shows that consumers are interested in organic products.
– The consumption of organic products in Finland still relies mostly on consumers that actively buy organic. To speed up growth in the organics market, we should also see organic products in the shopping baskets of those consumers who are interested in organic products but still relatively rarely buy it, she assesses.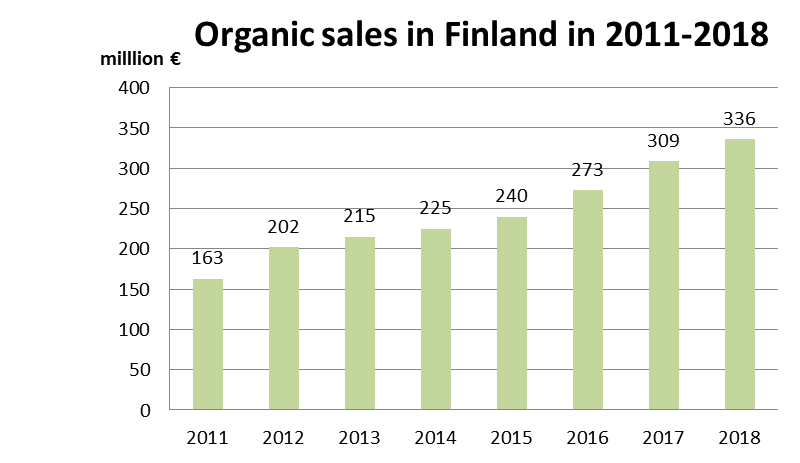 New products gave a boost to organic sales
The biggest growth in organic food sales was seen in the categories of organic juices and dessert soups, baby foods, brewery products, and cheese products. Frozen foods and health products also saw big increases. New products boosted sales.
Clear growth was also seen in sales of already popular product categories, such as hot drinks (coffee, tea, cocoa), eggs and organic yoghurts and other dairy desserts.
The market share of organic eggs by value is now 18% of the total retail sale of eggs. Boosted by the strong growth of the sales of organic baby food, the market share of organic in the baby food category has risen to 20%.
– This is natural when we know that families with young children are particularly active consumers of organic products, Kottila points out.
In contrast, the sale of organic bakery products, sugar and other sweeteners and meat products went down.
– New products are important motors boosting sales. This is apparent, for example, in the sale of frozen products, a category with still a small selection of organic products. Problems in greenhouse production due to the very hot summer will probably be reflected in a slower than usual growth in vegetable sales, Kottila notes.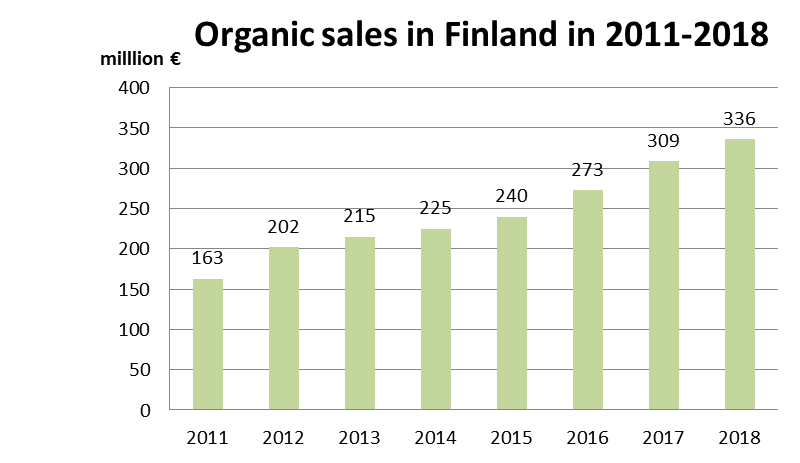 Organic fruit and vegetables and milk still in the lead
The biggest organic product categories remain the same as before: organic fruit and berries, dairy beverages and vegetables lead the organic sales. These three product categories together account for almost a third of all organic sales.
Hot drinks are still the fourth biggest product category, and eggs take the fifth place.
Bananas, eggs, semi-skimmed milk, coffee and minced meat are the best-selling individual organic products. Blueberry juice is an example of individual products that have seen the biggest growth. Carrots, cabbages and salads lead the sales in the product category of vegetables.
– Responsible consumption affects food choices now and vegetarian food is growing in popularity. We need more vegetables and vegetarian products in the organic sector, too, Kottila says.
More information: Executive Director Marja-Riitta Kottila, Finnish Organic Food Association Pro Luomu, marja-riitta.kottila(at)proluomu.fi, tel. +358 40 581 9252